Zoom is an application designed to conduct business meetings and remote meetings in audio and video. The service has been established since 2011 as a tool for remote communication in the
workplace, companies and e-learning, and it has started to gain more popularity in the recent period with the outbreak of the Coruna Virus epidemic and many companies having to make their employees work from home in line with the procedures of social isolation.
How to use Zoom to make a meeting?
In the beginning you have to register a new account like any other application and then activate the subscription from the email that will receive you immediately after registration.
Then you can use Zoom for free to make your meetings and group conversations with audio and video.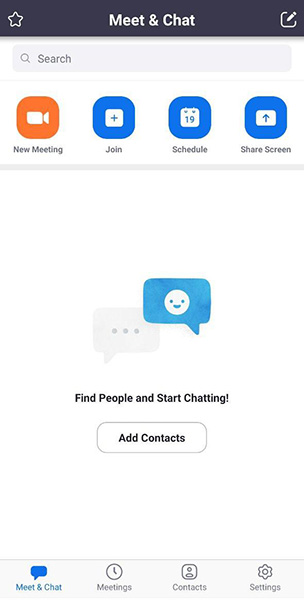 On the main screen there are four tabs: the first Meet & Chat and you can find several options:
New Meeting To hold a new meeting or start a group conversation.
Join to join a meeting that is already taking place.
Schedule to arrange a meeting at a specific time.
Share Screen To share the screen if you have, for example, a presentation that you would like to view while meeting on your device.
The other three tabs are: Meetings and display your meetings, contacts, and settings to modify your profile and application settings in general.
Create a new Zoom meeting
You can create a new meeting by clicking on the New Meeting option and when the meeting starts you can click on the Participants option at the bottom of the screen to invite other people to the meeting either from the contact list for those who are already using the application or via other applications where a link will be sent to them .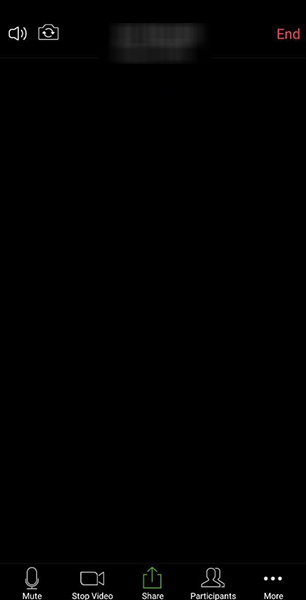 Each meeting or chat room has a secure ID and Password so that no one is allowed to break into the meeting. When the meeting is complete and the invitation is invited, you can hold the meeting with audio and video,
And if you are the one who created the meeting, you have full powers such as controlling the person / persons who speak and modifying the meeting settings.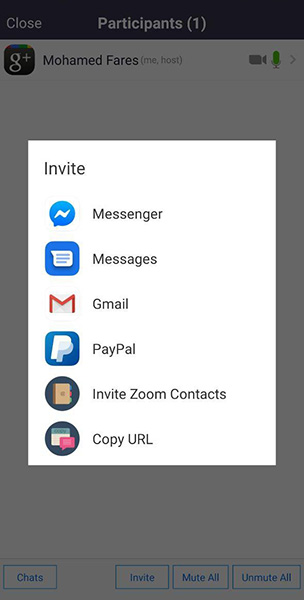 During the meeting there are additional options for sharing content by pressing the Share button to share photos or files from the device or cloud storage services such as Dropbox or OneDrive as well as Internet links, or share the screen to give a presentation and explain it from your device. Also, text messages during the meeting can be sent to all guests or only to specific people.
To add people to your contact list in the app for easy contact with them later and hold meetings, press the Add Contacts button from the main screen, and the addition is made using their email or phone number.
TO DOWNLOAD THE ZOOM HERE IS THE LINK